Fantasy
Date Published: 09/30/2019
Publisher: WordFire Press
Wes Rockville, a disgraced law-enforcement agent, gets one last chance to prove himself and save his career when he's reassigned to a 232-year-old secret government organization. The Witches Protection Program. His first assignment: uncover a billion-dollar cosmetics company's diabolical plan to use witchcraft for global domination, while protecting its heiress Morgan Pendragon from her aunt's evil deeds. Reluctantly paired with veteran witch protector, Alastair Verne, Wes must learn to believe in witches… and believe in himself. Filled with adventure and suspense, Michael Okon creates a rousing, tongue-in-cheek alternate reality where witches cast spells and wreak havoc in modern-day New York City.
The narrator filled in more information. "It wasn't until this land became my land that the government decided to create an organization to protect women at risk. The Davina Doctrine went against everything that the Willas stood for. Even though they ran the risk of persecution, the Davinas chose to work with law enforcement to expose the evil deeds of the rival sisterhood. President George Washington established secret legislation under Title VI of the Control Act of 1792. The law was enacted to protect the good witches that exposed the evil deeds of their sisterhood."
The screen went dark. There was only a chair in the center of a dimly lit stage. A single spotlight focused on the top of the blond actress's head. Wes was right; it was the actress he'd suspected. She had a hit sitcom and two Emmys, and there was some recent Oscar talk about her last movie.
"Yes. There are witches. Living among us. They are women who believe in using their power to protect love and life. And then there are some who use their powers for all the wrong reasons."
The camera came to rest on her beautiful face. She winked saucily as she placed a triangular witch's hat on her head. "Welcome to the Witches Protection Program."
Alastair smiled broadly. "I love that part."
"That was Jennifer Anis—"
About the Author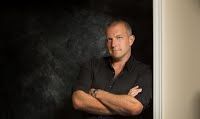 Michael Okon is an award-winning and best-selling author of multiple genres including paranormal, thriller, horror, action/adventure and self-help. He graduated from Long Island University with a degree in English, and then later received his MBA in business and finance. Coming from a family of writers, he has storytelling in his DNA. Michael has been writing from as far back as he can remember, his inspiration being his love for films and their impact on his life. From the time he saw The Goonies, he was hooked on the idea of entertaining people through unforgettable characters.
Michael is a lifelong movie buff, a music playlist aficionado, and a sucker for self-help books. He lives on the North Shore of Long Island with his wife and children.
Contact Links
Series: Toby Daye, #13

Hardcover, 301 pg.
DAW Books, 2019

Read: September 10-11, 2019
I finally took my eyes off the water, peering at her through the disheveled curtain of my hair. "Are you just babbling at me until I start feeling better?"

"Yup!" Marcia beamed. "Is it working?"

My stomach was no longer roiling. I didn't trust myself to stand up on my own, but I also didn't feel like I was about to introduce the barnacles to my breakfast. Again. I blinked. "Actually, yes."

"Sometimes you need to take peoples' minds off their problems if you want those problems to resolve themselves," said Marcia. "Focusing on things can make them worse."

"Not all problems go away if you ignore them. Most don't."

"No, but not all problems can be fixed. Sometimes you have to wait until the situation changes." She smiled sympathetically. "Like if you're on a boat and you get seasick."
Yup. Toby's on a boat—a sailing ship, to be precise—just the place for someone who hates water. Why is she there? Well, that has something to do with the debt she owes the Luidaeg. The Luidaeg has decided that time is up and it's now time to pay that mysterious bill she told the Selkies was coming due. And Toby has to come along to help her collect. A couple of months ago, when I listened to the audiobook of One Salt Sea, I wondered what happened to that ominous future event, so that was nice to see. On the other hand, we're told that this was nearly three years ago, which means it takes only three-ish years for books 6-12 to occur? That's an eventful life right there.
Because they're apt to be useful, and because Toby isn't likely to come nicely without them, the Luidaeg also brings Tybalt and Quentin along on their trip to the Duchy of Ships, where a convocation of Selkies will be held to pay this bill. Due to the significance of this happening, a few other dignitaries come, too—delegations from the Kingdom of the Mists, the Duchy of Saltmist, and Goldengreen—oh, and Gillian (which makes sense for people who've read the previous book, Night and Silence).
So we've got a group of Toby's friends, a new Duchy for most of them to visit, a bunch of debts the Luidaeg is collecting, and the fate of an entire race in the balance. What could go wrong?
Naturally, that's the wrong question. SOmething better to ask is: how many pints of blood will Toby lose while trying to fix what goes wrong and how many others will die? Obviously, I'm not going to answer those, but we need to get our thinking straight.
Something I want to mention before I forget: Before the Sea Witch shows up at her door, Toby's narration gives a very thorough and succinct recap of the entire series (one of the best of those I've read lately, it's a tricky thing to accomplish) before noting
…there's a lot of history around here, and sometimes it doesn't summarize very well.
It's a small thing, but it made me smile—McGuire excels at those.
The Luidaeg has got to be just about the most popular character in this series, and we really get to know her so much better here than we have before—and it made me so happy to see this. I'd gladly take another Luidaeg-centric book or three any day of the week. Seeing her at this turning point in all her power and all her grief is just stunning. I don't think I'd ever felt bad for her (at least not for long), but watching her being resolute in carrying out the duty she was bound to here—while clearly not wanting to go through with it—was moving. Early in the book, there's a scene between her and a little girl that just about broke my heart. At the same time, she has plenty of great lines and made me chuckle a lot, too. Her interactions with Quentin (and vice versa) might be my favorite parts of the book.
The Luidaeg/Selkie story was strong enough that I don't care so much about the rest of the book, which is good, because I think it's one of her weakest. There's an adventure in Saltmist that seemed pretty perfunctory and while the ending is very clever—and gives Toby a chance to embrace the technicalities of Faerie in a way she usually doesn't (that is, keeping the letter of the law, but doing a tap dance all around the intent)— it seemed anti-climatic. We have a great build-up and then an almost let-down of a conclusion.
A few quick bullet points that I don't have the time to expand on (nor do I think I could do them justice without talking too much about them):
No one expected, I trust, that things between Toby and Gillian would get better after Night and Silence, but it was tough (yet understandable and believable) to read Gillian's reactions to Toby here.
There are repeated references to the weakness/susceptibility to harm of one member of Toby's group—McGuire hit that note so often that I really feared for that character. One that I didn't realize I liked as much as I did when I feared for their safety and longevity.
We get to meet another Firstborn! She's just fantastic and I hope we get to see more of her. Also, the reactions of various members of her descendant races to meeting her in the flesh were priceless.
Someone's blind fosterage is getting harder to maintain. That could prove interesting (and in the Toby-verse, interesting usually is defined as calamitous)
Clearly, Toby's reputation as someone who topples monarchies has spread far and wide. This isn't good for her, but will be good for us readers.
Marcia continues to show more depth and ability than I gave her credit for when we met (which surprises me almost every time we see it)
What we're told about future books here (in terms of Toby's future obligations) is enough to get long-term readers excited (not that we needed the encouragement, really, but it's nice to know)
This isn't one of the best in the series—but it features some of the best moments, scenes, events. It's not a trade-off I'm entirely pleased with, but I can live with it (and thankfully the good far outweighed the less-good). It's safe to say that a lot won't be the same again in this world or for many of these characters. Any time I spend with Toby, Tybalt, Quentin, the Luidaeg, etc. is a good time, and I thoroughly enjoyed the read, I just wanted a bit more from an author who usually brings more than you could realistically ask for.
---